Plant Doctor Lucerne (Alfalfa) Pellets contain pure alfalfa and are a high-fibre and high-protein (26%) source for horses, ponies and other animals, such as cattle, sheep, goats and camelids.
What are Lucerne (Alfalfa) pellets used for?
Plant Doctor Lucerne (Alfalfa) Pellets​ can be used to add calories to an amimals' diet. They are a great source of calories, because they are forage-based. Forage based calories will not cause many of the problems that high sugar and starch feeds, such as grains, do.
They can also be used to add protein to a diet. Alfalfa is higher in protein than grass hays, so pellets can be used to boost the protein level of a diet.*
If fed with a long-stem fiber source (grass/pasture, beet pulp, alfalfa cubes) they can be used to replace calories lost when hay is scarce or unavailable, but they cannot be used alone to completely safely replace hay.
Benefits:
Lucerne (Alfalfa)

pellets are an excellent way of providing fibre in a concentrated form

No added sugar and low in starch

Lucerne (Alfalfa)

Pellets are rich in calcium and other naturally occurring vitamins and minerals

They can be fed soaked, making it ideal for older animals who struggle to chew

Lucerne (Alfalfa)

Pellets are perfect for use in a snack ball to help reduce boredom and provide a more natural 'trickle' feeding rate
Nutritional analysis
Typical analysis (%) 'as fed'

Digestible Energy

10MJ/kg

Protein

26

Oil

2.5

Ash (mineral)

10

Fibre

23

Sugar

5

Starch

3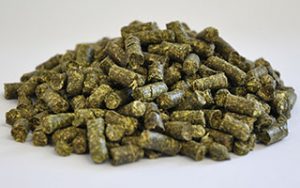 Ingredients: 100% Australian Lucerne (Alfalfa).
*The impact pellets will have on the dietary protein will be minimal, unless they are fed in significant quantities.
(478)
Be The First To Review This Product!
Help other Plant Doctor Pty Ltd users shop smarter by writing reviews for products you have purchased.
---
Others Also Bought
---
More From This Category